Hey all! First of all, I am so sorry for my disappearance this month! I was absolutely planning to keep writing posts but then…school. School also extremely decreased how much I read this month, which means this wrap up is going to be MUCH shorter than normal, but here we go.
She Who Became the Sun by Shelly Parker-Chan. I mean…what am I supposed to say? This book has been hyped and then the hype has been hyped and then that hype has been hyped, too (okay maybe I'm over exaggerating a little bit) and I was finally able to read it! And it IS good! I honestly had no idea where it was going and it felt slow at first but I really enjoyed it!
Where We Used to Roam by Jenn Bishop. Picked this one up on a whim during a weekend because it was lying around at my house, and it was pretty good! I liked the way it dealt with addiction and drugs in a way that middle grade readers could read it, however, I found the summary to be super misleading and it made the pacing feel super off to me.
The Prince of Los Cocuyos by Richard Blanco. Summer reading that I read right before school started–it was an interesting memoir, but I honestly don't have much to say about it. All the chapters were separate stories about Blanco's life, but the ending was super abrupt and kind of made me shocked. Not like anything super bad happened, I just…didn't expect it to end like that.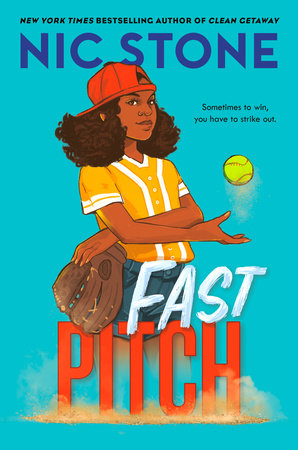 Fast Pitch by Nic Stone. I have played softball for I don't even know how long and yet this is the first book with a main plot featuring softball that I have EVER read. We need more softball books!!! (I say as I write a book about baseball). I absolutely loved this book, it was a super fast and fun read that as well as featuring softball, also taught us some history about black baseball!
Flash Fire by TJ Klune. Book one was much better. Honestly, despite the fact that for the entire time in book one I was rooting for the characters to get together, I think I liked the slow burn better than the relationship. I mean, the relationship was great, but maybe it was just the sense of book one being better overall.
In the Same Boat by Holly Green. I am astonished and impressed by the author's ability to keep my attention through the entire book when the whole thing is just canoeing down a river. I don't even like canoeing. But a LOT happens in a 265 mile canoe race, turns out. This book was so good I almost wanted to try it myself, despite the aforementioned statement of disliking canoeing (there are actually a LOT of reasons that I'd hate that).
Despite my not posting at ALL, I was in fact still reading all of your posts! There was a lot of great posts this month, and here's a few of my favorite.
My first thoughts when writing this section was just, 'lol I did none' but in my much more sophisticated blog (can't you tell how sophisticated it is) I will say, 'Unfortunately, this month I was unable to write any blog posts'.
September goals:
School first! ✅
Choose sleep over anything you want to do. (remember, you have to wake up really early again!!!)✅
Stop thinking about what you want to do in the far, far future. It's affecting what you want to do now. ❌
Try to improve your softball skills!✅
Get back into violin some more✅
All in all, honestly, not bad. School did start this month and I have been doing a pretty good job of staying on top of my work, if I may say so myself. And I've continued to have a good sleep schedule, which is pretty impressive for someone at my school (and honestly just anyone who's in high school). As for the third goal, I don't think I improved much on that but I guess I'll keep working on it. Softball…haha well I didn't do well in the single game I had, but I did make some tweaks to my swing and I think I did improve my power, if only I were able to improve my timing. And having orchestra in school really did allow me to play more violin! I'm still not practicing much but I'm playing.
October goals:
Stay on top of school
Try to write something you want to write. Don't think of everything else. Just what you would find enjoyable to write.
Don't make your entire life revolve around baseball
Please try to do some exercises if you actually want to go anywhere in softball.
In your free time, just do what you feel like (with some boundaries obviously; just don't force yourself to do anything).
As I've already said several times, school started, for me! It's been…interesting, I mean it's school. You all know what school is like. It's nice to have a routine but also I have no free time which is less nice and I'm not super enjoying some of my classes (but I am enjoying two of my classes and the teachers of those classes are very nice (possibly a big part of why I'm enjoying them…))
Fall ball started for me, but we've only played one game because it keeps raining the day before the games which means that the field gets all muddy. Still, it's good to play softball again, even if I did totally terribly on my first game.
I've gotten to see a lot more of my friends again now that school has started, and a bunch of people who I'm friendly with but not close enough to talk to over covid and it's so nice to talk to everyone again! I forgot how good school is at that. How do adults ever stay in touch with anyone they don't have a torture system keeping them close (joking, I understand that school is important, sometimes it just needs to be dialed back a little).
I would also like to let everyone know that I have no idea when I'll be able to publish my next post. It could be tomorrow (extremely doubtful) or it could be my October wrap up. Maybe it won't even be that. School has just been so time consuming and blogging just isn't something that I feel like doing even when I'm not doing school, so I'll write something when I have time and feel like it, and I don't know when that will be.
How was your month? Has school been a pain for you? I'd love to hear what you've been up to in all the time that I've been gone! As always, stay safe and keep on reading!