Let's play a guessing game! Who wants to guess how many books I read this month that I did not mark as read/review on goodreads? No, seriously, I want you to guess. Let me know in the comments! (hint: it's a lot). Anyways, here we are in May already, this year is zipping by! We're already 1/3 of the year??? How??? Anyways, let's see what I've been reading this month.
~What I Read~
Long story short, I read an adequate amount of books at the beginning of the month and then I went on vacation and read 2 contemporary books in 3 days and then on that vacation, I picked up a fantasy and…I'm still reading it…so basically I think I need to read more realistic fiction/contemporary so please if you have any recs, let me know in the comments!
Also, I'm going to apologize in advance for the weird image formatting that you might see (image sizes being off) because I don't know, my image sizing is being weird so I'm going by eye what looks good!
A Wish in the Dark by Christina Soontornvat. I really enjoyed this book! It had a super interesting world, where light was extremely important and the governor controlled all of it, and it had an awesome plot, too! I feel like the pacing was off a little bit near the end but overall it was super good! ⭐⭐⭐⭐
Scary Stories for Young Foxes by Christian McKay Heidicker. This was a reread, because I'm trying to write a short story that is horror (it's not going well for anyone who wants to know) and it was good as well! Maybe it's because I'm not the target audience but it wasn't that scary, but I still really enjoyed it! ⭐⭐⭐⭐
Lost in the Never Woods by Aiden Thomas. I loved Thomas's debut, Cemetery Boys, and had high hopes for this one, too. But, unfortunately, I didn't enjoy this as much as I enjoyed CB. It was definitely still an interesting book, but I think that my own expectations got the better of me, here. ⭐⭐⭐
The Gilded Ones by Namina Forna. This book, at the beginning, was sort of boring. I mean, all she was doing was running around battling. But I did enjoy the worldbuilding and the story near the end, plus the friendships. I haaaaated the romance though. I'm truly conflicted on this one so I'm giving it 3.5 stars which I rarely do ⭐⭐⭐.5
Parachutes by Kelly Yang. This book was super eye opening, with an excellent plot that centered around sexual harrassment and raising awareness about that. There were a few minor things I didn't like but they didn't affect the plot overall so it was still a very good book! ⭐⭐⭐⭐
Amelia Unabridged by Ashley Schumacher. This book was a nice and easy read! That's the problem. It's a book about grief, her best friend dies and she goes off and falls in love. Not saying that you can't fall in love it's just really weird to me how light this book was despite the topic. ⭐⭐⭐
The Wide Starlight by Nicole Lesperance. This book was interesting, it kept me reading but there were a few things that I didn't like. It was also confusing at times, as it seemed to be a mix of fairytale and real life and that's not exactly my favorite genre. Plus, there did appear to be a few times where things were way to easy (ex at the end with the ring). ⭐⭐⭐.5
Sweet And Bitter Magic by Adrienne Tooley. This was an interesting book and it had a cool concept but overall it was a very meh book. ⭐⭐⭐
Amari and the Night Brothers by BB Alston. This was a super awesome middle grade book, it was written well, there was magic, there was so many things including important parts about how Amari is treated differently just because of the color of her skin and where she lives. ⭐⭐⭐⭐.5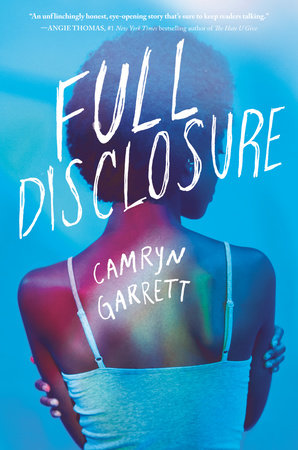 Full Disclosure by Camryn Garrett. I loved this book, it really taught me a lot about HIV and shows really how much stigma there is around it that shouldn't be there. The characters were amazing, the storytelling was amazing, the plot was amazing…it was all amazing! ⭐⭐⭐⭐⭐
Picture Us in the Light by Kelly Loy Gilbert. I found this book off of May's personalized recommendations and I was going on a vacation so I was like, 'I'll get it for vacation.' And I read it and it was REALLY GOOD. Once again, I must know: how do authors write books that are just about…people's normal lives…and yet they're still very interesting? ⭐⭐⭐⭐
~The Monthly Book Awards~
Alright everyone, I am sorry to say that I am, for now, discontinuing my Monthly Book Awards. I think they were a fun idea at first but more and more they're getting less fun to write and more something that I'm not looking forwards to doing in my wrap ups. I'm super sorry and if anyone wants to know my favorite character/plot/worldbuilding/book/etc., please ask in the comments! I'm totally fine with answering there, it's just….something about the formatting…or writing the entire thing in a post…or something that was really being a pain for me. I love all the support I've gotten in the past about the monthly book awards and I'm very sad to see them go, they're just not enjoyable for me to write anymore and I'm hoping that getting rid of them will fix at least part of the blogging burnout I've been going through. I've been looking through the comments that you all have written and I'm really sorry to have to get rid of these since I know a lot of people really like them! To check out past monthly book awards, go look at some of my other wrap ups, including my most recent one, my March Wrap up.
TBRs
For the record, I read exactly 0 of the books that I said I would read in April for my April TBR so I'm just not going to do one this month (I entirely forgot I even owned books I hadn't read yet…oops…)
~Monthly Bingo~
The Monthly Bingo is created by A Colorful Bibliophile so please head over there and give her some love because it's an amazing idea! You can find April's bingo board here.
Here's this month's board! (I didn't get bingo 😭)
And that's it for this month's wrap up! I hope that you enjoyed reading and thank you so much for stopping by! Take a guess at how many books you think I've read but not marked on goodreads (and I'm not even going to say no peeking because if you really go into that much effort to get the answer correct, you deserve it honestly). Also, SOMEONE PLEASE GIVE ME REALISTIC FICTION RECS BECAUSE I NEED THEM. Seriously, even if you have already recommended the book to me, write it in the comments because I it helps keep me more organized to have a bunch of recs in one place (by 'organized' I mean I'll just look in the comments for book recs but not actually put those recs anywhere else ie on goodreads).
As always, thanks for stopping by and I hope you have a marvelous May!